Posted in
Uncategorized
by Lia Sant on April 13, 2012
Tags:
content curation
,
edublogs
,
edusites
,
Livebinders
,
networking
,
QR codes
,
RSS feeds
,
sharing
,
social media in education
,
The Unquiet Educator
,
youtube
It all has to do with the degree of determination, commitment and critical thinking.  If you have your resources well organised –  RSS feeds, discussion groups, twitter- then time will never again be an issue.
Information, tools, advice, professional development opportunities are out there for you to grasp.  Provided you've developed a selection, screening and feedback process, you will eventually be shielded against a lot of frustration and waste of time.
A few kickstarter tips can make the difference:
So, sleeves up and Connect, Aggregate, Curate, Interact.
Via Scoop.it – SchooL-i-Tecs 101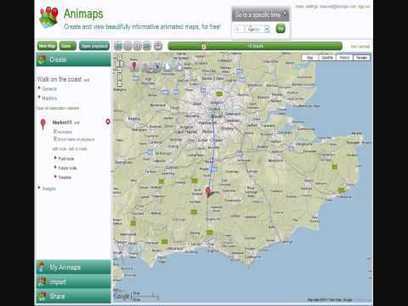 Animaps extends the My Maps feature of Google Maps by letting you create maps with markers that move, images and text that pop up on cue, and lines and shapes that change over time.
Posted in
Uncategorized
by Lia Sant on March 31, 2012
Tags:
cliparts
,
copying
,
copyright
,
curation
,
google images
,
Google images advanced search
,
information
,
online repositories
,
photo credit
,
royalty free photos
,
sharing
The other day, as I was browsing Google images for some graphic to complement an article with, I came across some really good stuff I could use.
The thing is that there was no primary source attribution and more extensive research revealed a repetitive use of the exact same picture in all sorts of blogs, sites and weblogs with no references whatsoever.
Not knowing where it came from, whether it's copyright, public domain or Creative Commons, labeled for non-profit/educational/commercial  context re-use and , absolutely wanting to pay credit to the inspired graphic designer who put it together in the first place, are and should always be important issues to anyone in the Information, Content Curation and Publication fields.
The simple reminder "this picture may be subject to copyright  "so frequently popping  up doesn't remedy the situation.  In the time-starving information swirl we are all in, we've been used to indulging ourselves in the speed, quantity and comfort that online content aggregators provide us with.
How would we all feel if we were to see our graphics online without the least intellectual property accreditation??
Connecting, Sharing, Informing, copying after copying, pasting after pasting is swell but what about ensuring there is no risk of copyright infringement involved??!!!
Very few people are in fact familiar with the Google images advanced search feature that does that license check for us.
Read more in "Google Images for Royalty Free Photos?" by Stephen Browne about the whole process with some helpful tips to go successfully through.